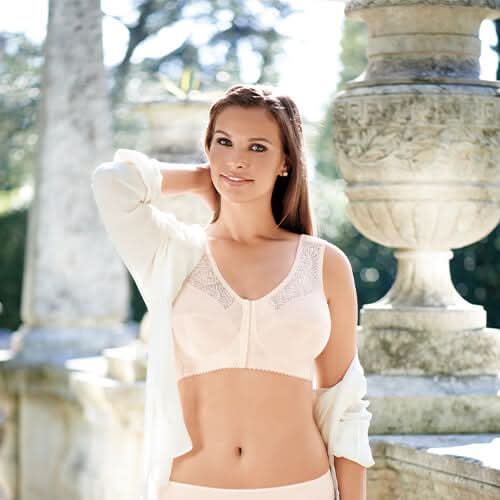 Front closure bra without underwire and relief straps MYLENA
Regular price
91,00€
/
Tax included.
Shipping
calculated at checkout.
*IMPORTANT: At Singuerlin we always abide by the SPANISH/FRENCH sizing. To place your order correctly you must look at the labels where it says FR / ES.
---
Front-closure bra without underwire and wide padded relief straps, this bra is ideal for easy dressing and undressing. The cups divided into three gathers and cleanses the chest from the armpit, bringing it forward, creating a beautiful and natural shape. The wide padded relief straps do not dig in or roll up, distributing the weight of the chest, resting the shoulders and neck. In the inner part of the cups, the lower area has a 100% cotton piece, since it is a non-aerated area and sometimes when it is hot, irritation can occur, this piece prevents this from happening thanks to its high transpiration, it maintains the chest at the right temperature at all times. The back is wide and high-cut for greater support and support. This bra without underwire is made with top quality materials and fabrics to offer a pleasant touch to the skin, as well as a long life of the bra in good condition. Ideal to go with maximum comfort for day to day.
Angelskin colour.
From cup A to E.
Material/Processing
* Slightly shiny elastic material with cotton
* Wide and elastic underbust band, does not dig into the skin
cups
* The division of the cup into three parts offers a beautiful shape of the chest.
* Waistband around the cup for an optimal shape without underwire
Suspenders
* Wide and padded relief straps, transversal stability, do not roll or dig into the shoulder
* The wide straps are elasticated at the back and adapt perfectly, without regulators, to the anatomy of the shoulder
Back
* Elements of vertical elasticity in the back for greater comfort and freedom of movement
* High cut back
Characteristics
* Easy to fasten thanks to the front closure
* T-shirt cut offers extra support
LYCRA®
It is the proprietary name of a high-quality elastane fiber from the INVISTA company. It gives garments eternal elasticity, optimal adaptation to the shape of the body and makes them fit perfectly.
care
wash at 30°C
do not bleach
Do not use dryer
Do not iron
Do not dry clean
Materials
45% Polyamide
25% Polyester
15% Cotton
15% Elastane